Itinerary
Itinerary
Start tour :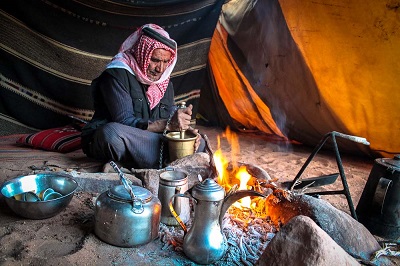 Day1 Arrive to Wadi Rum village by noon and meet your Bedouin hosts.
Load equipment into the jeep and head into the desert to a remote location lunch
Learn about the Bedouin tents materials and tools and start building your Bedouin campsite. Go searching for wood to collect
Learn how to prepare an underground oven
Goat slaughtering in the traditional way done by Bedouin
Help in food preparation and the Bedouin Zarb cooking technique
Engoy  walk around over sunset who will give you an introduction about the desert and desert life
Back to the campsite to settle down
Dig out our dinner and enjoy a Bedouin feast
Sit around the camp's fire and exchange banter with your Bedouin hosts and learn more about their lifestyle – an old Bedouin man might be present as well to give you an insight about the old times….
Day2 Breakfast
Head deeper into the desert to one of the desert mountain looking for water
You'll be also learning about some of the different herbs that grow in the mountain
Come down from the mountain for lunch and relaxation
Go to visit some Bedouins in the desert…. Learn how to enter the house, greet and sit.. an opportunity to see how the Bedouin lives (but note that you cannot watch or take photos of women)
See the Bedouin coffee making process… learn about the tradition of coffee – its significant, how it is served and how you should have it as a guest
Get some goodies from the Bedouins for tonight's dinner… yogurt and Bedouin bread..
Go for a round to check on the water reserves
Go check on a goat herd and have a glimpse into the shepherd's job
See how the Bedouin Mansaf meal (the most traditional Jordanian dish) is cooked
Gather around the Mansaf plate for dinner and learn the tradition of eating Mansaf by hand
Go for a night trek
Day3 A morning desert walk to locate a mountain spring
Learn something about tracing in the desert
Head back to Rum village where your program ends just before noon
End tour
This trip is for true adventure – seekers who want to discover the Bedouin Life in its natural state and survive it! Bedouin will teach you how to develop proficiency in both primitive and modern survival skills. Trip include basic outdoor survival skills such as building Bedouin campsite, finding water and learning about goat slaughtering in the traditional way and so on.