Itinerary
Itinerary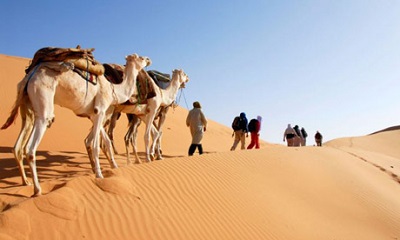 Day 1 : Queen Alia International Airport – Hotel in Amman
Start tour :
Arrive Jordan ,to Queen Alia International Airport.
The representative will meet and assist you through the customs and immigration procedure.  Then, transfer to hotel in Amman
(NO meals will be provided.  Depends on the arrival flight, we can provide lunch and dinner on this day.  )
Day 2 : Amman – Petra visit – Little Petra
After breakfast, we will transfer to Petra via desert high way, a local guide will escort you into Petra and show you the highlights of the Nabatean city. You will enter the city through tunnel  and be rewarded with the most astonishing and dramatic monument in Jordan: the Treasury. You will also visit the theatre, the royal tombs and façades and the colonnaded street.
Lunch at the restaurant in Petra
Dinner and Overnight in Little Petra camp site
 Day 3 : Haroun Mountain
After breakfast,  In the morning we will start early to Haroun mountain and Haroun tomb located ca 5km South West of Petra, appeared to be of particular importance. According to the Jewish, Christian and Muslim traditions, This visit is one of the traditional rituals in Wadi Mousa and Wadi Araba, Prophet Haroun's tomb is placed on one of the highest sand mountains
of Petra ,a mosque with small white dome was built there at the end of Mamluks ' regime ,the historical dimensions of this site are related to Wadi Mousa and Mousa's spring that is situated at the entrance of the town ,how ever there is no scientific or physical evidence about this site. The exiting shrine on the top of one mountain in Petra is 1353m high , which is towered with a white dome, is a cubic building inside which a rectangular tomb covered with green velvet cloth , in the southern corner there is a stair leading to a cave that has rock paths and a tomb which is thought to be of Haroun. The visit to Haroun tomb will be hiking for more less 7 hours, evening will be back to your hotel dinner and overnight at Hotel in Petra Rose city
Boxed Lunch will be provided
Dinner and overnight in hotel in Petra Rose city
Day 4 : Petra – Wadi Rum
In the morning you will be transferred to Wadi Rum.via King's high way, and stop over the great view of Petra mountains near Rajif village, and continue via desert high to Wadi Rum, at the visitor center will check in at the protected area, after showing the seven pillars of wisdom, and drive by Jeep Safari to the middle of the desert we will drive you to Umm El-Eshreen at great part of Sandunes , and check in at our campsite  We will have dinner BBQ, and Bedouin kinds of food, overnight at Wadi Rum camp site
Lunch at restaurant in Wadi Rum
Dinner and overnight in Wadi Rum camp site
Day 5 : Wadi Rum
In the morning after  having breakfast, we will start hiking via Umm El-Eshreen and today is Thamudic trail, we will follow the camels steps, and visit the inscriptions of thamudic trails, we will have break time about one and half hour at the inscription and we head to south of the protected area to visit Lawrence house, or it is called Al-Quasir area where it has to stories Lawrence house or traders guesthouse, after a visit of Lawrence house we have little hike to Sandunes of Al-Quasir area to join the sunset and we do our campfire, dinner and overnight. (6 hours hiking ).
Boxed lunch will be provided
Dinner and overnight at Wadi Rum camp site
Day 6 : Wadi Rum
We start in the morning after breakfast hiking to Ireiq Al-Seigah where the Bedouin used to have special games and the goatherds sate together, there is the ruins of temples and we enter the red desert Umm Sabata, evening we stay at our campsite, dinner and overnight ( 6 hours hiking ).
Boxed lunch will be provided
Dinner and overnight at Wadi Rum camp site
Day 7 : Wadi Rum – Dead Sea – Amman
After the breakfast, we will move to Dead Sea where is considered one of the most spectacular natural and spiritural landscapes in the whole world.  It is the lowest body of water on earth, the lowest point on earth and the world's richest source of natural salts, hiding wonderful treasures that accumulated throughtout thousands of years.  You will have leisure time and the chance to float Monte water.  Then, transfer to hotel in Amman.
Lunch at local restaurant in Dead Sea
Dinner and overnight at hotel in Amman city
Day 8 : Amman – City sightseeing tour – Airport.
You have free time in the morning after your breakfast, we drive you to down town visit the Roman theater, citadel , and old Souq, shopping, free afternoon enjoy a free evening in Amman.  Then, transfer to Queen Alia international airport to take the international flight.
Lunch at local restaurant in Amman
End tour
Hiking at Jebel Haroun, a holy mountain near Petra, Jordan is the burial site of Prophet Aaron, brother of Moses. In Wadi Rum, you can follow in the footsteps of Lawrence of Arabia by hiking