Itinerary
Itinerary
Start tour :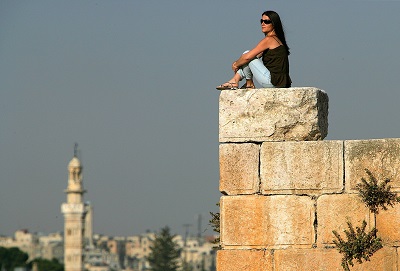 Day 1 Queen Alia International Airport – Hotel in Wadi Musa (L & D)
Arrive Jordan , at Queen Alia International Airport and meet with English driver and then directly transfer to Petra. After hotel check in, you will have orientation tour which searching around the hotel and get some necessary stuff in souq
Welcome Party in Little Petra
Enjoy Arabic BBQ and nature in Jordan
Overnight at hotel in Petra Rose city
Day 2-10 Start studying Arabic (B & L)
Learning Arabic at hotel meeting room (10:00 – 15:00)
For lunch, it will not be provided on weekend (Fri, Sat & National holiday)
For Fri, Sat & National holiday, it will be full day free for leisure and enjoy optional tour which mentioned below
In the first Fri or Sat, you will visit at Petra site
Petra called "Rose Red City" The treasure of ancient world, hidden behind and almost impenetrable barrier of rugged mountains, boasting incomparable scenes that make in the most majestic and imposing ancient site will standing nowadays. At the beginning, the trail leads you the Siq, a 1.5km long narrow gorge. Then, you will be at Khazneh, also called treasury. You will enjoy the amazing sight of unique Nabataean architecture. Then, continue to the valley range to the temple and rock tombs with the unique monumental facades.
++ Optional Tour ++
Full day excursion to Madaba, Mt.Nebo & Dead Sea ( Incl Lunch)
Full day excursion to Dana bio reserve (Incl Lunch)
Full day excursion to Dead Sea (Spa & Este) (Incl Lunch)
Full day excursion to Aqaba & shopping (Incl Seafood lunch)
Half day excursion to Jerash & Ajloun (from Amman)
Enjoy Traditional Jordanian cuisine (Mansaf, Kofta, Magluba, Sweets, beverages)
Day 11 Two days Bedouin life experience (B,L,D)
Arrive to Wadi Rum village by noon and meet your Bedouin hosts.
Load equipment into the jeep and head into the desert to a remote location
Lunch
Lean about the Bedouin tents materials and tools and start building your Bedouin campsite. Go searching for wood to collect
Learn how to prepare an underground oven
Goat slaughtering in the traditional way done by Bedouin
Help in food preparation and the Bedouin Zarb cooking technique
Go for a walk around over sunset who will give you an introduction about the desert and desert life
Back to the campsite to settle down
Dig out our dinner and enjoy a Bedouin feast
Sit around the camp's fire and exchange banter with your Bedouin hosts and learn more about their lifestyle – an old Bedouin man might be present as well to give you an insight about the old times….
Day 12 Bedouin Life experience 2nd day (B & L)
Breakfast
Head deeper into the desert to one of the desert mountain looking for water
You'll be also learning about some of the different herbs that grow in the mountain
Come down from the mountain for lunch and rest
Go to visit some Bedouins in the desert…. Learn how to enter the house, greet and sit.. an opportunity to see how the Bedouin lives (but note that you cannot watch or take photos of women)
See the Bedouin coffee making process… learn about the tradition of coffee – its significant, how it is served and how you should have it as a guest
Then, go back to hotel in Wadi Musa
Overnight at hotel in Wadi Musa
Day 13 Wadi Musa – Amman (Half day city tour) (B & L)
After having early breakfast, you will leave for Amman
Upon arrival at Amman, city sightseeing will be started.
After having lunch, hotel check in
For any person who prefer to enjoy the optional tour (half day excursion to Jerash & Ajloun), it will be started from lunch restaurant.
Overnight at hotel in Amman
Day 14 Departure Amman
after Breakfast at the hotel, dependent from departure time transfer to Amman intentional  airport to say farewell and board your international flight.
End tour
In this tour, you will learn Arabic from Native speaker in Petra,  the world wonder, is without a doubt Jordan's most valuable treasure and greatest tourist attraction and have intercultural experience (Bedouin Life)  It will be unforgettable experience in your life.