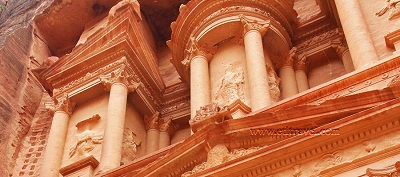 Itinerary
Itinerary
Start tour :
Early morning, around 2.00 AM, you will be picked up from your hotel in Sharm El Sheikh, and transferred to Taba Heights Marina. Board here the boat to Aqaba city  in Jordan (running time around 30 minutes), where our representative meets you. Drive directly to the fabulous rock city Petra for a full day tour. From the Visitor's Centre start on horse back or on foot to the Siq, a narrow gorge, and continue to the beautiful Treasury. Then walk along the Street of Facades to the Theatre, the Royal Tombs and Qasr Al Bint. In the afternoon return to Aqaba city  Port to catch the ferry in the evening back to Taba. Here your Egyptian representative welcomes you back and transfers you to your Sharm El Sheikh Hotel.

End tour
Day excursion to Petra from Sharm El Sheikh
Unforgettable Excursion to Petra from Sharm El Sheikh via Taba port you will visit magnificence sites of Petra , rose-red city.